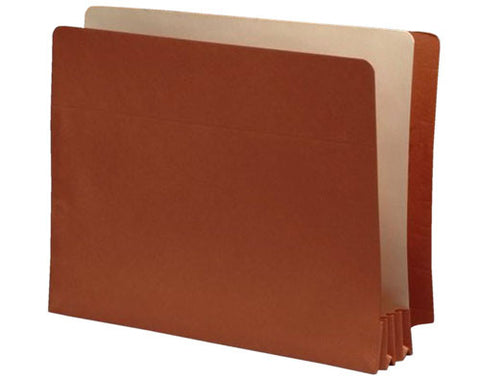 Lip Style End Tab Expansion Pockets, Tyvek Gussets, Letter Size, 5-1/4" Expansion (Carton of 100)
ITEM: FST1534-LS-TY
These expandable file pockets have a 6-1/2" high Tyvek gusset on left side and 1-1/2" high Tyvek gusset on the right side. 5-1/4" accordion expansion. Full end tab with scored tick marks for easy application of color coded labels. DESIGNED FOR SELF FILING. THESE FOLDERS WILL NOT FIT IN MOST FILE DRAWERS.
LETTER SIZE: 9-1/2" H x 12-1/2" W
5-1/4" expansion
18 pt manila back lining
11 pt redrope front lining & front cover
Reinforced Tyvek Gussets
Packed

100 per carton
NO RETURNS ON THIS ITEM. We do not accept returns on these expansion pockets. If you have a question or would like a sample just ask!
Usually ships in 3-5 business days 
---
We Also Recommend

Liquid error (layout/theme line 358): Could not find asset snippets/spurit_uev-theme-snippet.liquid