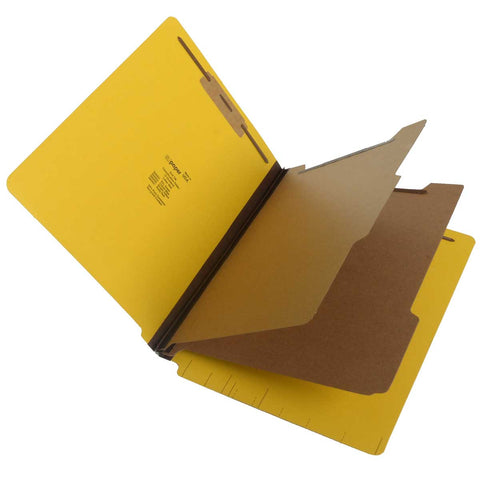 S60436 25 Pt Pressboard Classification Folders, Full Cut End Tab, Letter Size, 2 Dividers, Yellow (Box of 15)
ITEM: S-60436
The perfect folder for large, bulky files where separation within the folder is required. Designed to stand up and last even in the most demanding environment. Features Tyvek expansions which allow the file to expand as needed. Two bonded fasteners in positions #1 and #3. DESIGNED FOR SELF FILING. THESE FOLDERS WILL NOT FIT IN MOST FILE DRAWERS.
SJ Paper S60436 match
LETTER SIZE: 

12-1/4" W x 9-1/2"H

Front panel: 11-3/4"W x 9-1/2"H, undercut 1/4"

25 Pt Yellow pressboard stock
17 Pt kraft dividers with duo fasteners
2-1/4" expansion with a tyvek gusset
Packed 15 per box
Please Note: These folders are made to order and usually ship in 2-3 weeks.
---
We Also Recommend

Liquid error (layout/theme line 358): Could not find asset snippets/spurit_uev-theme-snippet.liquid